All prices below include fishing gear for each angler.
Each angler will be supplied with:
Rod and Reels.
Lures, tackle, and live bait. Artificial and/or live bait is included on all trips.
Fishing Licenses.
Ice for the fish while we are out fishing.
Rates do not include customary 20% tip for mates

ALL RATES LISTED ARE PER CHARTER FOR UP TO 6 PASSENGERS. TIMES LISTED ARE DOCK TO DOCK AT CAPTAIN'S DISCRETION. ALL RATES are cash prices and do not include mate's tips and fish cleaning. Please tip your mate appropriately. Fish cleaning/ packing is available upon request for additional expense through Virginia Beach Fishing Center. Please add up to 10 percent for credit card processing fees with credit card purchases. Matador charters ONLY offers per boat charters and does not offer per person (make-up charter) rates. Please call Captain Jake at 757-749-6008 for more information about trips or to reserve your charter date!
"TORO" 35' Henriques New England Style Downeaster:
Toro is available ONLY for Inshore and Nearshore/ Wreck fishing Charters: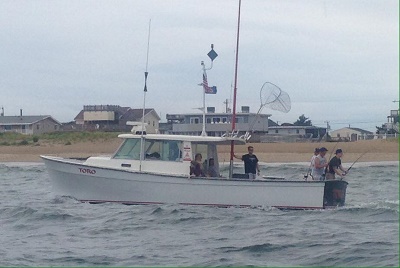 4 Hours ½ Day INSHORE charter $550
6 Hours ¾ Day INSHORE charter $800
8 Hours Full Day INSHORE charter $1000
8 Hours Full Day NEARSHORE charter $1200
Va Beach Shark Fishing Charters
Full day inshore shark fishing charter   ($1000 up to 8 hours and up to 6 people June to October)
Feeding time happy hour inshore shark fishing trip   (Evenings June to October $1000 up to 6 hours up to 6 people)
Offshore shark fishing charter   (Mostly year round $2000 up to 14 hours up to 6 anglers)
Overnight shark fishing charter (mostly year round $3600 up to 36 hours up to 6 anglers
 
* Price may not include fuel surcharge. Please ask about fuel surcharge.
* Price listed is for cash or check purchase only, please add 10 percent for credit card purchases.
Book Your Virginia Beach Beach Sport Fishing Trip or Email us below or Call Jake Hiles at 1-757-749-6008
Deposits, Trips, Scheduling
Deposits - To be 20% of total trip cost. Must be paid by check or we would need a valid credit card number to hold until the day of the trip.
Rescheduling and Refunds - If there is some unforeseen condition that will not allow the charter fishing trip to run as scheduled, ie bad weather or a mechanical issue, the charter may reschedule or have their deposit refunded in full. Weather calls are totally the discretion of the Captain.
Day of Trip - The cost of the charter fishing trip is due in full either paid by cash. check or charge, but cash or check is preferred method of payment.
"Cancellation policy- if you reserve a date for a charter, a credit card number will be held and verified for your charter. No deposit is held up front, however if the charter custom cancels or reschedules their charter date, 50 percent of the charter cost will be due at the time of rescheduling or cancellation .The captain reserves the right to cancel or reschedule the charter at any time without penalty to the charter customer.
Method of Payment - We accept cash, checks, and credit cards. We prefer to accept cash or check rather than credit card. Please note ** There is a 10% processing fee for any charter trip paid with a credit card. This does not include deposits paid with credit cards.